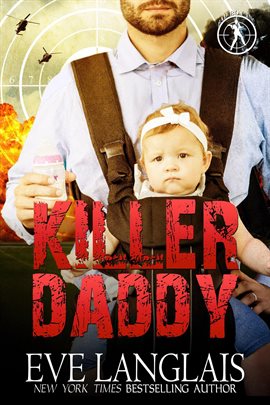 Part 5 of Bad Boys Inc. series
This daddy is a stone cold killer.
You want to know how you give a guy a heart attack? Leave a baby on his doorstep with a note saying: Congrats, you're a daddy.
Not that Declan believes it for a minute. However, until that paternity test proves him right, he's in charge of changing diapers.
Screw that. He's hiring a nanny.
A hot nanny.
A woman who has no idea she's tempting a killer.
Just like those people trying to kidnap his baby have no idea he's not a daddy you should mess with.
But they're about to learn.
AMAZON
LINK
5 STARS
I love this story. It was intense, funny with great main characters. And one of those main characters is baby Harper. I also liked that it wasn't anything like I was expecting. But as it unfolded I found I liked it even better.
This story was so full of action, hilarious banter, and intrigue.
Declan had even more levels to him than even he realized. He also had a really good team members who were his family that he can trust.
The nanny was not only hot but also full of her own surprises. I don't want to say too much and spoil it for other readers. I will say that the nanny has skills!
Even though I figured out the villain pretty quickly in the story, there still was plenty of room for the surprise about him at the end. There was also another dangerous twist that I did NOT see coming towards the end. I liked that.
I enjoyed the whole story and look forward to reading more books in this particular series!