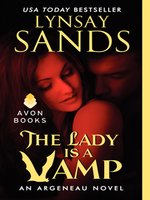 #17
Kidnapped! When Jeanne Louise Argeneau left work, she never thought she'd end up tied down by a good-looking mortal. More attracted than annoyed, she quickly realizes there is more to her abductor than meets the eye.
One desperate act leads to . . .
Love? Paul Jones has need of a vampire, and only Jeanne Louise will do. He just has to convince this beauty of a Vamp to help him . . . never imagining that he would fall in love. But with the immortal world's answer to law enforcement hunting them, their time together is running out . . . and Paul and Jeanne Louise will need to risk everything to spend an eternity together. AMAZON 4 STARS
A good story with a different type of story line. That is something that I like about this author, she has a variety of ways that her characters meet. The
Argeneau
family has many members to it, so of course there are many opportunities to try the different ways that Immortals and mortals struggle to be together.
I like the books I read to have a happy ever after and this one does. Of course that doesn't guarantee that it will be easy and that sacrifices will have to be made. I liked all the MC's including Paul's sweet daughter, Livy. Even Livy's dog, Boomer added to the story. The cavalry will show up in time to help of course. That would be the other members of the
Argeneau
family.
My only comment on the down side would be that at one point the story dragged a little when it came to the angst about Jeanne Louise possibly losing her life mate. I understand the feelings about that had to be developed and felt but it also seemed to be repeated a bit more than I would have liked at that one point. Not a biggy just an opinion, all mine of course.