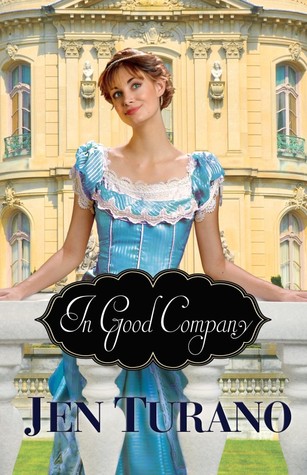 BOOK REVIEW- IN GOOD COMPANY-

After growing up as an orphan, Millie Longfellow is determined to become the best nanny the East Coast has ever seen. Unfortunately, her playfulness and enthusiasm aren't always well-received and she finds herself dismissed from yet another position.

Everett Mulberry has quite unexpectedly become guardian to three children that scare off every nanny he hires. About to depart for Newport, Rhode Island, for the summer, he's desperate for competent childcare.
At wit's end with both Millie and Everett, the employment agency gives them one last chance--with each other. As Millie falls in love with her mischievous charges, Everett focuses on achieving the coveted societal status of the upper echelons. But as he investigates the suspicious circumstances surrounding the death of the children's parents, will it take the loss of those he loves to learn whose company he truly wants for the rest of his life?
AMAZON
This is a charming story, with some interesting characters. Millie, was so unusual in her way with children. She loved them fiercely and wanted the best for them But because of her unusual methods, she almost always got in trouble and ended up being dismissed from many job. She just seemed to attract mishaps. I liked her and her unbounded energy and zest for life. She was like a pixie sized whirlwind. Her desire for knowledge was endearing as was her misuse of bigger words and her carrying a dictionary around to look them up. She also tending to draw people in who became champions on her behalf. Those people became friends and added quite a bit to the story too. Of course everything wasn't all roses because there were plenty of people (snobs mainly) who really disliked her. Everett Mulberry, was handsome, rich, entitled and completely clueless.
He's also never met anyone quite like Millie.
Everett picked a woman who he thought would be the perfect society woman to marry. Too bad that Caroline, was over the top cruel, manipulative and selfish. She sure got away with a lot of stuff. The three wards of Everett's were hooligans, who had suffered so much with the death of their parents. But Millie, loved them through it. It presented some funny moments with the children and there were other funny moments too.
There remained questions that surrounds the death of Frank and Violet, the children's parents. Questions that only Millie thought to ask. Those questions will be answered. I really liked the way Reverend Gilmore was written. He was a truly godly, loving, compassionate man.
I liked the way that there were times that seeking God's guidance was included in the book. I think that it was subtle and woven gently in the story. Non-threatening to non-believers as well.
I received a free copy of this book from Bethany House in exchange for an honest review.