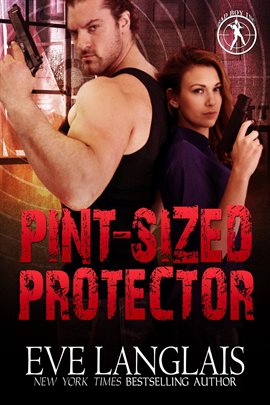 She might be small, but she can still kick his ass. An assignment to babysit a rich dude isn't Kacy's idea of a fun assignment. Especially since he and his bodyguard are just like all the other boys she knows, thinking she's too tiny to pack a punch. I'll show him. She'll show him that sexy things come in small packages and he won't be able to stop himself from falling for the pint-sized protector. Problem is, who'll protect his heart? When a gunman threatens her life, he wants to send her away, but her Latina pride won't allow herself to be treated like anything less than a pro. Will pride also stand in the way of her happiness?
AMAZON LINK
5 STARS
After reading my first book in the series called "Killer Daddy", it pulled me in. That book also showed me a look into this book and I grabbed it with both hands when the chance came. I was NOT disappointed!
I absolutely loved this one! Kacy is someone that was over the top great! Tiny? Yes. Skilled? Absolutely. Smart? Yes. People underestimating her because of her size? For sure. Taking any guff off anyone? Nope.
Marcus was a huge guy who had some skills when it came to his protection duty. But he also finds himself feeling like he's limping behind when it comes to Kacy's skills. He resents the heck out of her especially at first. That leads to a whole lot of clashes,
and arguments between them. Marcus has been Darren's bodyguard (and friend) for years. He was also a good main character as well with a pretty good depth to him. Even if he was a bit narrow minded in the beginning about women as guards and tiny Kacy in particular.
Darren has to be the peacemaker between the two of them more than once. Reminding them both that he is the client and they WILL find a way to work together. And they do but it's fun to see how that goes both before and after they do.
Darren is some ways is a mystery probably because he is also the holder of a lot of secrets.
What I did see was interesting and I was glad to see that he gets his own book. I've already got "Hitman Wedding" lined up to read.
I liked the gadgets that Kacy had available to her. Not only her gadgets but her ability to get into places that most people couldn't. And yes, some of that was because of her very helpful "size".
The tension, dangers, multiple motives, and surprises were well written and I enjoyed it all. Of course there was also a hot romance working as well as a welcome Epilogue.