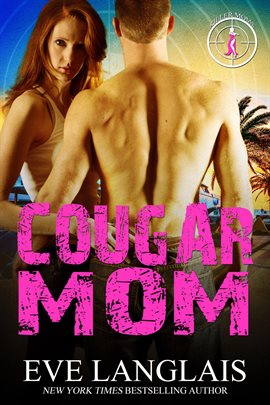 Part 3 of Killer Moms Series

Older is not only sexier, it's more dangerous too.

Meredith is practically old enough to be the mother of some of the younger Killer Mom agents, but that doesn't mean she's ready to retire. With her kids off to university, it is past time this Cougar Mom goes back to fieldwork. And she gets the perfect opportunity when she offers to help organize a wedding in the Caribbean...while completing a mission.

When an accident leaves her with no memory, she has no idea that the man caring for her, the one she's falling for, is her target.

Hugo isn't exactly a good man. He'd be the first to admit that he's ruthless, yet he's a different person around Meredith. A kind and gentle lover-until he's betrayed.

When the truth of Meredith's identity is revealed, he wants nothing to do with her, but that changes when she's kidnapped, and he realizes that he made the mistake of falling in love with a killer mom.
5 STARS
Another good story in an unusual series. This story had depth and pulled me in right away with the Prologue about Anita. This is the first of many names that she will be known as. She'd do anything to protect her son and daughter, and she did. Which landed her in big trouble until a woman named Marie showed up and led her to a new life.
Hug, wow what a private but surly guy. "Trust no one especially a woman" is his unspoken motto. He has reasons to believe that as he's been a subject of many betrayals. His man for everything, Gerome is always there for Hugo. And yes, that is what Hugo called him "his man for everything". A totally accurate description.
There is plenty of dangers for both Meredith AND Hugo. Which was a surprise because I thought the contract was to only kill Hugo. That's not the last surprise though. There is a surprise twist when it comes to Meredith's target Hugo. One that I liked and never saw coming. There is also humor in the story too especially when Meredith doesn't remember her name and is dubbed "Ariel" by Hugo. Well, a gal has to have a name right? And it's better than Jane Doe.

The Inspector was a mixture of some smarts, but also looking for any way to increase his overworked, understaffed police department. Hugo is often the one who get touched for that. He also is mighty attracted to Ariel which irritated Hugo no end.
I liked the way the story ended in a dramatic way just like the whole story. Nice Epilogue too.