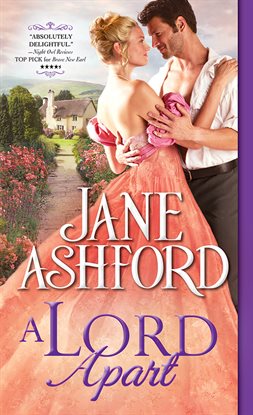 Family secrets, an unlikely alliance-and a love neither expected...
After his parents' sudden death, Daniel Frith, Viscount Whitfield, is struggling to unravel a web of chaotic family records. He is astonished to learn his father's will contains a mysterious legacy: a house left to a complete stranger. He knows nothing about the beautiful Penelope Pendleton and he's not sure he wants to...until she turns out to be a whiz at all those nasty tasks involved in estate administration...
Penelope has no idea why Rose Cottage was left to her. But it's a godsend after her brother's reckless actions disgraced her family. She had planned to stay out of Viscount Whitfield's way, not grow ever closer to him. But when they discover how entwined their families really are, Daniel and Penelope must collaborate to avoid a scandal that reaches much higher than they could have guessed...
3 STARS
I found this book to be a bit of a mixed bag. It had its good moments but I also had times where I struggled to keep involved.
Neither of the main characters were a problem to read about though. They had plenty of baggage and emotional issues that they had to wade through. Don't get the wrong idea though because it wasn't done in a heavy handed way. There were also some interesting secondary people, like Kitty who was the 16 year old maid.
There is also humor in the story, and the incident with the goats was both surprising and funny.
I found Lord Macklin to be a wild card in the story. I wasn't sure what to quite make of him at first. And Penelope has pretty much the same feelings. Of course, she's not sure anymore who she can trust. She's been badly burned by the Home Office government men. She's been treated horribly through no fault of her own.
With all of that said, there were parts that just didn't pull me in that much. The story does have an unusual twist in the end that leads to a H.E.A. and some justice too!
Added is a quick look into another book, "How to Cross a Marquess."