Super Simple T-Shirt Scarf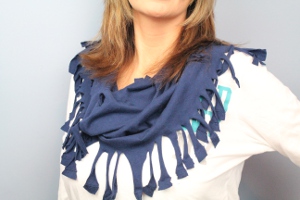 Learn how to make a scarf using an old t-shirt and a pair of scissors. This is a great way to save clothes from the trash and repurpose items that no longer fit. This project is perfect for both beginning crafters and kids. As long as the young person is old enough to hold scissors, he or she can work on this project with ease. Wear the scarf with any outfit - it's a great way to accessorize during the cold winter months.

Read more at http://www.favecrafts.com/Wearable-Crafts/Super-Simple-T-Shirt-Scarf#yURJ4AXGeSaRjs0h.99
Materials:
Instructions:
Cut the tee shirt under the arm holes to make a tube shape.

Cut into it from both sides about 3-4 inches at every half inch mark.

To finish, simply pull on the fringes you have just created and stretch them out.
There is also a video, which I will add in another post.