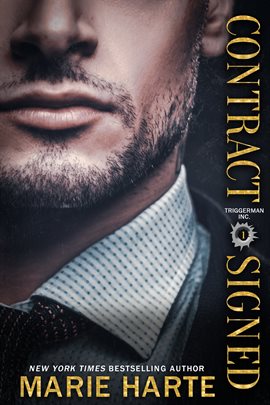 Part 1 of the
Triggerman, Inc.
series
Three assassins and a… baby?
Don't miss the first in this sexy, fast-paced romantic suspense series-TRIGGERMAN INC.-from New York Times bestseller Marie Harte. Noel "Ice" Cavanaugh's method is foolproof. Get in, do the job, get out, melt away without a trace. Neat. Tidy. No mistakes. This time, though, something isn't right. Two somethings. First, a random attack that feels not-so-random. Then he discovers a baby on his doorstep with a note claiming it's his. Unfortunately, the sexy neighbor who found the boy first has too many questions in her eyes to ignore. When her handsome, mysterious neighbor suddenly asks her out on a date, Adeline Rose has suspicions he's fishing for help with his bundle of…joy? By the date's end, she's convinced Noel's just as distant as he seems-until a scorching goodnight kiss burns away all thoughts of being careful.
Now Noel has more than one problem on his hands. Splitting baby duty between three badass assassins, figuring out how to fit in more time with Addy…and keeping both of them safe from the danger that's followed him home.
This book has been previously released.
Warning: Beware a killer with a heart of gold, a baby who needs constant changing, and unrequited love that's actually quite…requited.
AMAZON LINK
5 STARS
Unique. There are other words that I could use but this one is the first one that comes to mind right away. I enjoyed this story even though some of the sex scenes were a bit much. But it also had humor, plenty of danger coming from reasons that left Noel scratching his head trying to figure out. And the baby, there is that huge question of who is the baby daddy. They don't know his name so they continually give him their own versions of names. The other 2 assassin's are kind of forced together at Noel's private home as they try to figure things out. Uncomfortable together at first,
Deacon, Hammer and Noel slowly start to bond together as a team and with the baby. Made for some funny times too. Even though none of them are used to being targeted when they are home in the U.S. So there is plenty of mystery and danger too.
It looks like people either really liked this book or hated it. Put me in the slot for really liking it. I think I just found a new series to enjoy.
I liked how the story ended with the door left open for more adventures.

Not sure that I have read anything by this author before but I will be following up to the next book with Declan's story.
I was happy how things came to a conclusion; a H.E.A. for Noel and Addie. Now, there was a woman who was full of surprises!